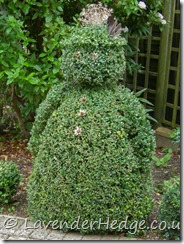 I have always admired topiary hedges clipped into animals, people or other sculptural shapes. So I decided to clip one of my box hedges into a topiary man. His eyes and buttons are dried Eryngium seed heads.
When it snows, we have a ready-made snowman!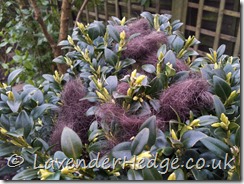 At this time of year, when the family have hair cuts, I push the hair clippings into the head of my topiary man, so the birds can help themselves to nesting material. It quickly disappeared, so I am now collecting the moss in the garden to put in there for them!