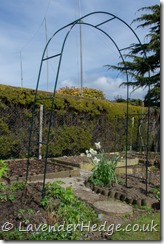 Over the winter we removed a conifer tree that had become a bit of a thug. The roots were travelling under the path and coming up in the vegetable beds. You could tell where the roots had reached, as the veggies and strawberries were not growing as well as the others. Enough, is enough, we thought. Food comes before an overgrown bully-boy conifer, so down it came.
To give that area some height now it has gone, I decided to get a rose arch. Thought it would also make a pleasant entrance to the vegetable area of the garden. So I made a quick trip to Argos, as I have bought arches from there in the past. They had one half price at £14.99. Well, if its normally £30 it should be okay I thought. How wrong can you be? Hubby, who it has to be said is very handy at putting stuff together, had a lot of trouble constructing the arch. The holes needed to be tapped out, in order to get the screws in; the connecting pieces were misshapen and had to be corrected with pliers; the sections didn't hold their shape and had to be bent into position. It was so flimsy it couldn't even be pushed into the ground!
I suppose you get what you pay for, but we have had arches like this in the past, and they have been fairly good. Ironically the rose I planted to climb up it, is called High Hopes. Unfortunately, we don't have high hopes for the arch to last more than a season.
Update: in Autumn 2014 this arch was replaced as it was going rusty and not substantial enough for the rose climbing up it. It was replaced by a wooden rose arch.