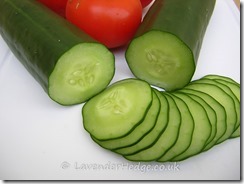 There is something quite exciting about getting the tomatoes plants planted out – the thought of summer days and eating home grown salads, I suppose.
The tomato seedlings have grown so fast this week, thought it was time to pot them on.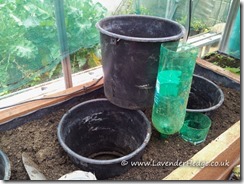 In our greenhouse we have two huge wooden tubs, filled with soil. In these I buried large bottomless pots to put the tomato plants in. I filled the plastic pots with a mixture of home-made and purchased compost, together with a horse-manure based soil improver.
Beside the pots I buried some plastic bottles with holes in the lid and the bottoms cut off. When the tomatoes get bigger, the roots will grow out through the bottom of their pots and I can water the roots directly through the bottle. It is a much more efficient method of watering than trying to water the entire wooden tub.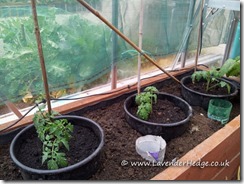 We prefer the medium sized tomatoes, finding the cherry tomatoes a bit too sweet for our taste. This year I have planted out three Alicante plants – I find this variety generally very reliable, along with three Ailsa Craig plants and two Money Maker plants.
As with potatoes, I like to put in different varieties, with the theory that each variety may respond to growing conditions differently. Hopefully, that will mean we should get at least some good pickings off at least one of the varieties.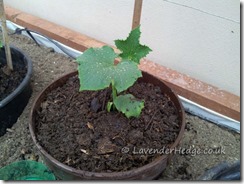 I have also potted on the cucumber plant in the greenhouse. The variety I grow is called Marketmore and I hope this one does better than last years, as the plant just gave up the will to live after producing one cucumber. Not sure why, as previous years have been fine, although all plants seem to get yellow leaves. I wonder if it's a lack of water, so I've added more homemade compost to the mixture this year and again put it in a bottomless pot to try and control the watering. I am also giving it a weak feed at each watering.
Roll on summer!