The half-timbered lych-gate at St Mary's church, Painswick in Gloucestershire, looking pretty with the crocuses blooming in the sunshine today. The churchyard is world-famous for its 99 clipped yew trees.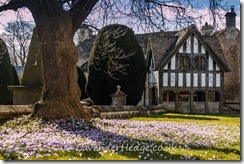 Painswick is sometimes referred to at 'The Queen of the Cotswolds'  and is a photographer's paradise.
The BBC drama, The Casual Vacancy based on a story by JK Rowling, is partly set in the village of Painswick.