When pruning shrubs in the garden, it is important to use the right tool for the job, to avoid putting unnecessary strain on your wrist and hand. There are two main types of secateurs:
Bypass pruners work like scissors, with one blade 'bypassing' the other and is designed to cut younger growth on shrubs.
Anvil pruners are considered better for older wood and thicker stems.
I used to buy cheap secateurs in the past, but not surprisingly they never seemed to last very long. Either the spring broke or they were just too difficult to cut with. Three years ago I invested in slightly more expensive secateurs made by Fiskars and it proved to me that it was worth buying better equipment, especially when your joints get older. These Fiskars secateurs have been very reliable and easy to use, until recently when the blades have become slightly bent and wouldn't open easily (probably from cutting stems which are too thick!). It was time to invest in a new pair.
I decided to purchase WOLF-Garten RR2500 bypass secateurs from their Premium Plus range, with soft grip handle. The 30 degree cutting angle is supposed to be easier to use (essential for my slightly arthritic hands!). The blades are non-stick and they have an integrated spring that cannot go missing.
The packaging on these secateurs enabled me to try them out for size and ease of use before purchase – a huge plus point.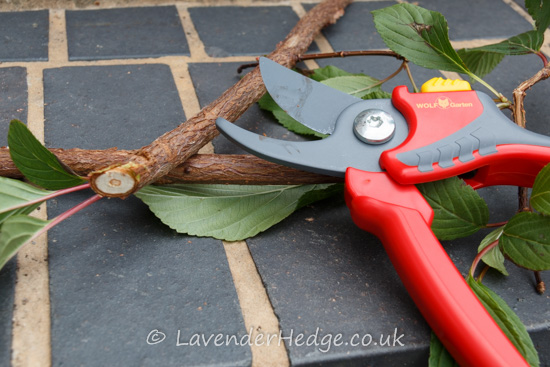 However, when I got them home I spent ages trying to release them from the packaging – there was no clue as to how to do this and in the end I just ripped the cardboard and plastic apart as best I could. [See below for the techie answer to this problem]
I tried them first on Viburnum bodnantense Dawn shrub. This shrub has quite dense wood, so it was a good test for the secateurs. I was able to cut a branch approximately 22mm in diameter with just one hand using the WOLF-Garten secateurs, whereas I had to use two hands with my old Fiskars secateurs to cut the same size branch.
I have been using them for about a month now and have cut a wide variety of plants. The secateurs are sharp, comfortable to hold and easy to use. However, they do seem to struggle with the very sappy stems, but woodier stems are not a problem. The bright red colour of the handle makes them easier to find and I am less likely to inadvertently throw them away with the prunings. Only time will tell how well they last, especially with regard to sharpening the blade.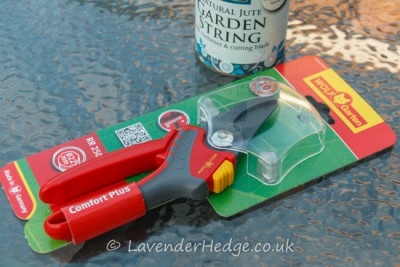 Review of WOLF-Garten RR 2500 Bypass Secateurs
Max 22mm cutting diameter
Non-stick blades (replaceable upper)
Suitable for left or right handers.
Price paid: £20
Purchased: June 2015
Update 26 October 2015
Today the yellow button that keeps them in the closed position, came off. They are now permanently open. I am extremely disappointed since these are the most expensive secateurs I have purchased to date and they have lasted the least amount of time, all of four months!
I am pleased to say that WOLF-Garten give a 10 year guarantee on these secateurs and have replaced them without quibble.  Thank you WOLF-Garten – roses here I come!
This time I got the Under Gardener to open the packaging. The trick, it seems, is to look on the reverse of the packet where you will find a serrated tag – use a screwdriver to flip the tags upwards. The packaging then comes apart easily.