The RHS Malvern Spring Festival, is a great place for gardeners to find inspiration. Held on the Three Counties Showground it benefits from having the glorious backdrop of the Malvern Hills.
The Show Gardens
The show gardens are the highlight of the Festival for many people. Here is a taste of what was on offer this year, I do hope I have done them justice, it is not easy with the amount of people around or in the gardens!
Macmillan Legacy Garden
Designer: Mark Eveleigh
Awarded: Gold Medal and Best Show Garden
This took its inspiration from a wonderful overgrown garden in Worcestershire.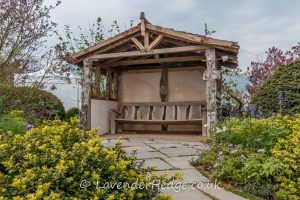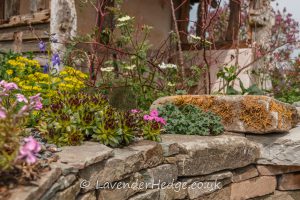 The attention to detail in this garden was amazing.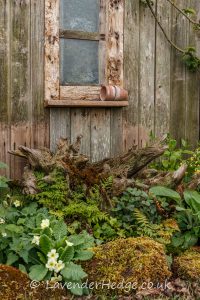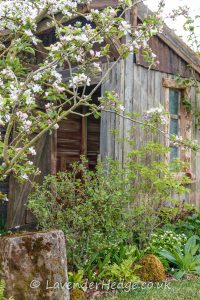 Gardening Amidst Ruins: a Tribute to Capability Brown
Designer: Wyevale Garden Centres in partnership with Historic Royal Palaces
Awarded: Gold (Show Garden) and Best Construction Award
Celebrating the 300th birthday of Lancelot 'Capability' Brown. Apparently, Capability Brown loved creating new gardens out of old medieval moats and ruins, plunging roses into half-submerged pots, providing a home for exotic birds and plant trees to create new walkways.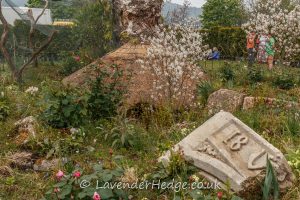 The Sunken Retreat
Designer: Graduate Gardeners
Award: Gold
A contemporary garden, where a good deal of thought had gone into the planting colour scheme and the co-coordinating wall art and accessories. Designed for entertaining family and friends. Not sure I would want to sit round a smoky fire pit though.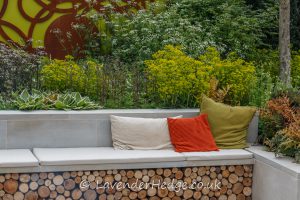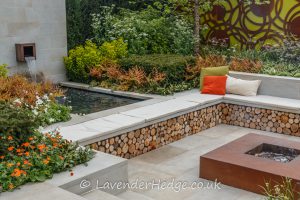 Reflections of Japan
Designer: Howle Hill Nursery
Award: Gold
This garden used the Japanese technique of 'Shakkei' meaning 'borrowed landscape' of the Malvern Hills to great effect and was absolutely stunning.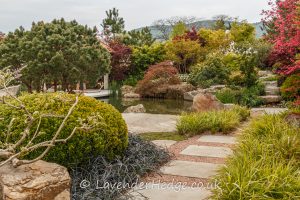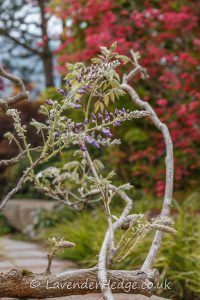 The Garden of Romance
Designer: Villaggio Verde
Award: Gold
A representation of parts of an old rustic Italian Cloister garden. Centered around a 400 year old Olive tree, this garden had taken a month to construct and was used as a theatre space during the festival (hence the photos not showing the whole garden as there were people in the garden!)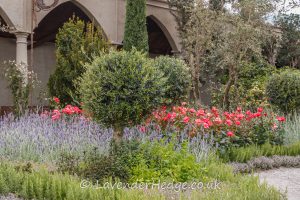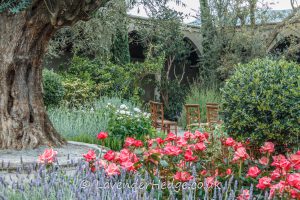 The UCARE Garden
Designer: Emily Sharpe
Award: Silver-Gilt (Show Garden)
Inspired by Broughton Castle, nr Banbury in Oxfordshire, home to Lord and Lady Saye and Sele, patrons of the charity. The garden promotes the beautiful UCARE tulip, Tulipa 'Caresse', a symbol of hope in the treatment and care of patients with urological cancers.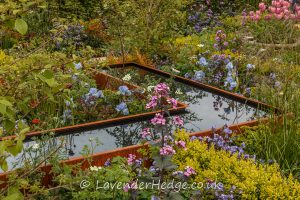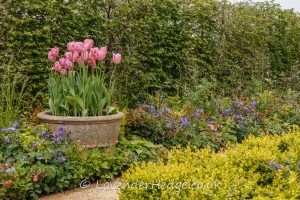 The Woodcutter's Garden
Designer: Mark Walker
Award: Silver
Like something from yesteryear, when recycling and sustainable living were part of the every day life.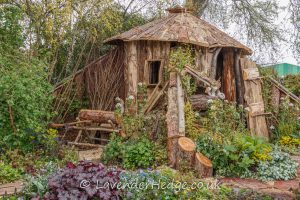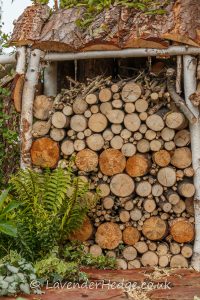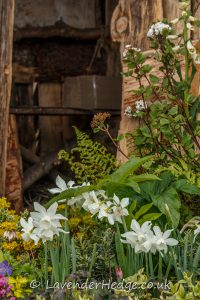 Milleflori 'A Garden of One Thousand Flowers'
Designer: RHS Students of CW Horticultural Training
Awarded: Silver Medal
This formal garden, set around an arbor, is inspired by the ancient 'Milleflori' glasswork found among the Staffordshire Hoards.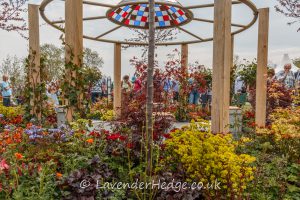 Time is a Healer supporting Primrose Hospice
Designer Wilson Associates Garden Design
Award: Bronze (Show Garden)
A tranquil space for counselling the bereaved with a focus on children who have lost a loved one.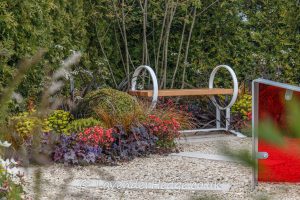 The Festival Gardens
The Festival Gardens are designed and created by those starting out in the horticulture industry. Whilst the Show Gardens take centre stage, I think some of the festival gardens were just as beautiful.
The Water Spout
Designer: Christian Dowle
Awarded: Silver Gilt and Best Festival Garden
Inspiration for the design came from the numerous waterspouts and natural springs and emerge from the granite rocks in the Malvern Hills.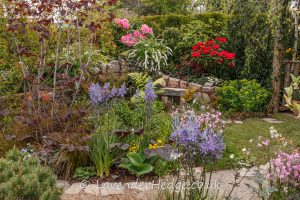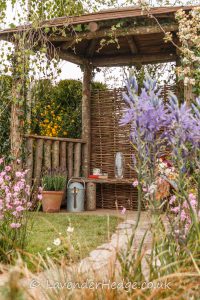 Hidden Gems of Worcestershire
Designer: Nikki Hollier
Awarded: Silver and People's Choice
This elegant design celebrates the diversity and horticultural beauty of Worcestershire by intertwining technology with agriculture.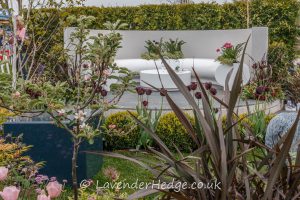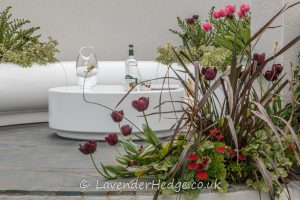 The Low Line
Designer: Jamie Langlands. Pro Gardens Ltd
Award: Silver
Inspired with the recent rejuvenation of the High Line in Manhatten, New York.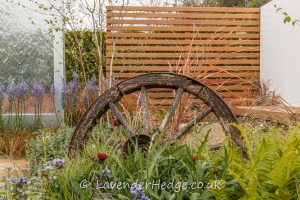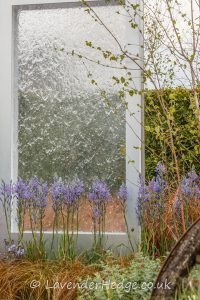 There are so many tempting plants available to buy – from the common, to the more specialist plants – something to suit everyone's taste and pocket. Many of the nurseries go to great trouble to display their plants in wonderful mini-gardens. Be picky what you purchase – many of the more common plants can be purchased at the local garden centre, for less and you don't have to carry it around all day.
Visitors also got the chance to see their favourite gardening experts – including Alan Titchmarsh, Carol Klein, Christine Walkden and Joe Swift – and get advice about their gardening problems.
There was so much to see, and so little time to see everything. Other highlights of the festival were the school gardens, cookery demonstrations, crafts and vintage car displays.
Tips for enjoying the Festival
Wear comfortable shoes as there is a lot to get round. If it's going to be sunny remember a hat and/or sun screen.
Food and drink is expensive to buy from the outlets, as is ice cream (£2.50 for a whippy cone) – so take your own if you are on a budget.
It is highly likely that you will feel the need to purchase some plants, so take large bags or a crate on wheels with you.
If you are female, don't leave it until the last minute to go to the toilet – there are long queues.
Only assistance dogs are allowed in the Showground, and their website says you may be refused entry to the car park if you have one – so leave the dog at home.
Remember to make a note of the gate you enter the Showground, and the area you park your car.
Some images available for licencing from the 2017 RHS Malvern Spring Show.