This is a delicious Mary Berry recipe, which I recently discovered. You can make with any type of apples, including windfalls.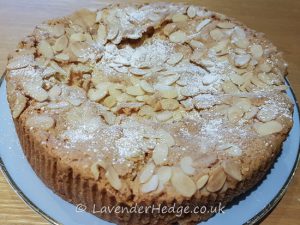 Ingredients:
225g self raising flower
1 level tsp baking powder
225g caster sugar
2 large eggs
½ to 1 tsp almond extract (to taste)
150g butter, melted
250g cooking apples, peeled cored and sliced
25g flaked almonds
Method:
Preheat over to 160°/140° fan/gas 3. Lightly grease a deep 9″ cake tin lined with cake tin liner.
Place flour, baking power, sugar, eggs, almond extract and melted butter into a bowl. Mix well until blended, then beat for a minute.
Spread half the mixture into the prepared tin. Place the apples on top of the mixture, piling most in the centre. Pour or spoon the remaining mixture over the apples, making sure they are covered.
Sprinkle with the flaked almonds.
Bake in preheated oven for 1¼-1½ hours until golden.
Dust with icing sugar.
Best served warm. It was delicious with clotted cream ice-cream!