Dorset Apple Cake (sometimes known as Somerset Apple Cake) is delicious served warm. Although this recipe calls for cooking apples, but I find it a great way to use up any type of windfall apples.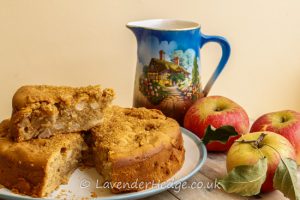 Ingredients:
225g self-raising flower
115g butter or soft margarine
115g light brown sugar
450g cooking apples peeled, cored and chopped (but any type of apples will do)
2 medium eggs
3-4 tbsp milk
2 tsp ground cinnamon
2 tbsp demerara sugar
Method:
Heat the oven to 180°/160° fan/mark 4 gas. Grease and line a deep 20cm (8″) cake tin with baking parchment or cake tin liner.
Cream together the sugar and butter until soft. Add the beaten eggs, a little at a time.
Add the flour and enough of the milk to make a soft consistency.
Add the chopped apples.
Place in the prepared tin and gently level surface. Sprinkle with the demerara sugar and bake in oven for 35-40mins or until golden and a skewer inserted into middle comes out clean.
Allow to cool in tin for 15 minutes before turning out on a wire rack to cool further.
Serve warm with a little cream or custard and enjoy!