Although I don't have a lot of space in my garden for growing main crop potatoes, I do like to grow some early potatoes. I usually plant first early potatoes around about the first week of March, depending on the weather and if the soil is warm enough. But they never seem to reach maturity when I would wish them to. So, this year I am trying something different.
I have decided to experiment and grow a few first early potatoes in a large pot, which I am going to keep in my unheated greenhouse until the weather gets suitably warmer.
The variety I am growing is Swift, but there are lots of other varieties to try.
To start with, I put a few inches of compost in the bottom of the pot, then added three of the chitted seed potatoes, covering with another five inches of compost, before giving them a water.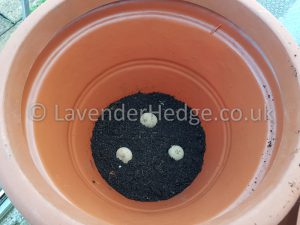 I shall continue adding compost as and when the shoots break through the compost, until the top of the pot is reached.
They will need watering at least once a week.
Hopefully, I should get some nice new potatoes slightly earlier than normal. Watch this space!
Why not grow some yourself? If you don't have a greenhouse, you can put the pot in a garage, shed or sheltered spot to start with, moving the pot into the light when the shoots reach the top of the pot. You will get immense satisfaction from growing your own food to eat, and it is great for children to see how food is produced.