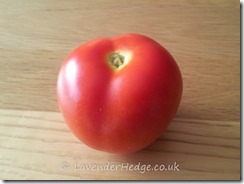 Picked my first ripe tomato today and ceremoniously ate it for lunch – it was delicious. The rest of the tomatoes are still looking very green though, so I have removed some of the leaves on the plants, to help them ripen.
The runner beans are not coping well in this hot weather and the beans are going to seed before they get the chance to grow.  Have been watering them every few days, but all it does is keeps them alive, just!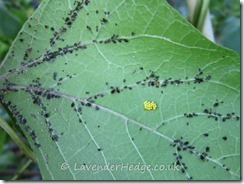 The aphids are still a huge problem, making the plants look sick with curling up the leaves. The organic insecticide we used, I think, was ineffective – possibly been in the shed too long. Tried spraying some diluted Ecover washing-up liquid on the leaves yesterday, which may have helped, it's difficult to tell. However, found some ladybird eggs on the underside of some of the leaves tonight, so am going to give the ladybird larvae a chance to eat the aphids before any more spraying. Spotted two ladybirds as well, one of which was spotless!