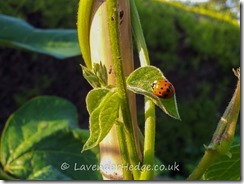 The runner beans are still not big enough to pick at the moment and I suspect they don't like this heat. Unfortunatley they are severely infested with blackfly, even though I planted marigolds around the plants. Despite our best efforts we cannot seem to get rid of the blackfly by squashing them. Even spent an hour the other night hosing them off, only for them to return the following day. Have now resorted to using an organic insecticide, suitable for vegetables.
I discovered a lone ladybird on the beans tonight, the first seen this year – just need a few more to join him!
We are picking the climbing beans most days. They get placed in a bag in the freezer and kept for winter meals. They seem to freeze better than the runner beans, which seem to get a peculiar taste when frozen. Strangely these beans do not have any blackfly on the leaves at all. Even some runners planted in the same row have blackfly, but not the climbing beans.