Tag:
harvest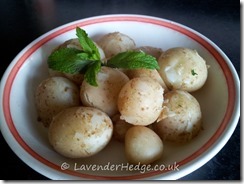 This is what growing-your-own is all about!
The foliage on the earliest potatoes planted have started to flop. So, as they won't be growing any more, I decided to start harvesting them. I leave them in the ground until needed and dig as required. I dug down carefully to avoid damaging the crop.
T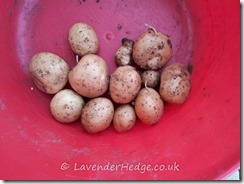 his is what came off the one root I dug up. The variety is Rocket, a first early potato. They were planted on 4 March this year, then followed the cold weather! I dug down to check on their progress at the beginning of April and the seed potato was just starting to sprout, so in effect they didn't start growing until April. It remained cold through most of April so they have been growing for 14 weeks, much longer than in a normal year.
Gave them a quick scrub to remove the soil and then boiled with a sprig of mint. They didn't take long to cook and you have to keep an eye on them or they suddenly start to break up. They tasted absolutely delicious, perhaps even more so because of the wait! From veg plot to plate in little more than half an hour, meant that the taste was captured, unlike the supermarket 'new' potatoes that have been hanging around in the warehouse for weeks.