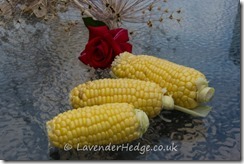 Keep a close eye on developing sweetcorn. Once the silk tassels have turn brown, they should be ready for harvesting in about a week, depending on the weather.
To check the sweetcorn is ripe you need to peel back the outer layers of husks to reveal the kernels. Sometimes the kernels near the top of the ear of sweetcorn  may not have developed, so it's always worth checking further down the cob. Sometimes the ears of corn don't get properly fertilised so not all of the kernels develop. The rest of the sweetcorn is still edible, just cut off the under developed part of the cob.
Use your thumbnail to puncture a kernel. If the liquid is translucent and milky then the sweetcorn is ready for harvesting. If it is still watery and clear then they are not yet ready and you need to replace the husks.
The first year I grow sweetcorn, I kept leaving the cobs thinking they weren't ready. In fact it was just that the top kernels that had not developed properly. We ended up with over-ripe cobs which were rather dry!
Pick the cobs as close to when you are going to cook them as possible. Once picked, the sugar in the kernels turn rapidly to starch. They can easily go past their best in a day or two. This is the reason why it is worth growing your own, as shop ones just don't taste as sweet!
Picked our first sweetcorn cobs of the season for our tea today. They were delicious. Sweet and juicy!